Berahino Could Be Puel's New Star Pupil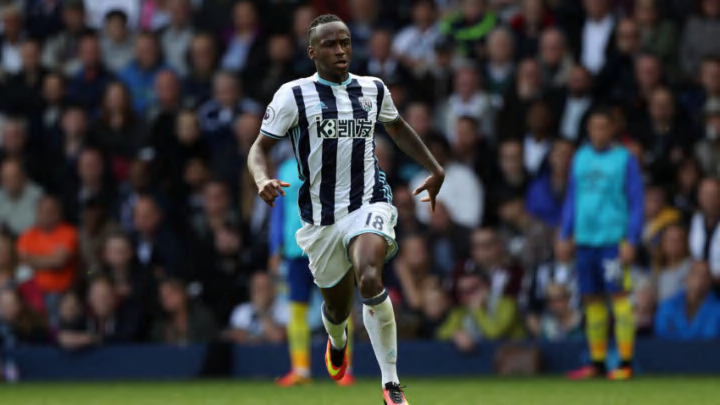 WEST BROMWICH, ENGLAND - AUGUST 20: Saido Berahino of West Bromwich Albion during the Premier League match between West Bromwich Albion and Everton at The Hawthorns on August 20, 2016 in West Bromwich, England. (Photo by Lynne Cameron/Getty Images) /
Saido Berahino has a year left at the Hawthorns and an uncertain future ahead. Claude Puel could make the English-Burundian striker his latest success story.
It seemed only a few years ago that Saido Berahino was the next big thing in young, exciting English football.
A teenaged war-refugee from Burundi, who credited football with helping him integrate into British society, then-18 year old Berahino stormed onto the scene with productive loans from West Brom's academy into the lower leagues of English football.
Through three League Two clubs on loan, the teenager scored 12 goals in 32 appearances. It's a respectable haul at any age and level; at 18, it's the sort of thing that gets words like "future star" thrown around you. Contract extensions followed, and the striker came back to the Hawthorns at the head of manager Steve Clarke's plans for the future.
Then came the sacking of Clarke. And the tweets, registering his displeasure at his mentor's sending-off.
The entry of Tony Pulis did little to calm the situation. After a November 2014 arrest on suspicion of DUI caused Berahino's contract extension talks to be terminated, relations between the player and the Board broke down.
Live Feed
Bayern Munich show interest in Borussia Dortmund target Armel Bella-Kotchap /
BVB Buzz
Most (in)famously, the then-21 year old striker gave an interview to Sky Sports without the knowledge or consent of his club, a flagrant violation of team policy. In the no-holds-barred interview, the Baggies' leading scorer openly admitted that his motivation for playing well was to attract the attention of bigger clubs. To the Board of the club that had been his home since age 10, it was a slap in the face.
As fate would have it, it would be the first of many.
Though Berahino finished the 2014-15 season with a career-high 20 goals across all competitions and a team-leading 14 league goals, the front office were quickly growing tired of his attitude; that summer, he was put up for sale for £25 million, an offer that went unmet.
As the 2015-16 season started up, the Anglo-Burundian saw himself benched in favour of Salomon Rondon, the club's new record signing. That summer's transfer window saw four bids lodged for his services, none approaching the figure Pulis demanded; all were rejected.
Related Story: Rodriguez Could Get New Lease On Life At Hawthorns
Berahino, out of favour and feeling held hostage at the Hawthorns, once again took to Twitter, slamming his club and chairman Jeremy Peace, alluding to a strike if he was not sold.
"Sad how I can't say exactly how the club has treated me but I can officially say I will never play [for] Jeremy Peace," the tweet read, before being taken down days later. Apologies and reconcilations were made, but the bridges had been burned. Playing in only 28 league appearances, West Brom's one-time star recorded only four league goals and 7 in all competitions.
If he had planned to play his way to fame and glory elsewhere, the plan was now backfiring, badly. Flash forward to this summer, where a snubbed contract and rejected bids make a frustratingly familiar scene, and it's not hard to see the endgame: barring a last minute miracle, Berahino will leave on a free, having burned his bridges at the Hawthorns and poisoned his own well with his attitude.
A Second Chance at St. Mary's
So what's the case for taking a player who, by all accounts, seems to be a miniature version of Mario Balotelli? In so many words, youth, talent and circumstance. For all his petulance off the pitch, his quality on it has never been in doubt. As stated earlier, 20 goals in all competitions in a season is nothing to be sniffed at, more-so when the scorer in question is just turning 21. Even more-so when the club you're scoring at is a bottom-mid table side with a manager known for pragmatic, lockdown play rather than scoring chances.
Tony Pulis, for all his chops as a manager, was never going to be the one to motivate goal-hawking Berahino to stake his future to the Hawthorns permanently. What the world sees as player petulance can perhaps be better understood as incompatibility between club, manager and player, that only the lattermost saw as a problem.
Saido Berahino had, and still has, the potential to be great at a club that plays to his strengths. He recognized this, and unlike most athletes of his age and station, wasn't afraid to tell people about it. The West Brom Board, as Boards do, saw things differently; their player should play to his team's strengths, not vice versa. As the old saying goes, the name on the front of the kit is bigger than the one on the back.
Next: Preview: Southampton vs. Sunderland
But where Tony Pulis and West Brom failed, Claude Puel and Southampton might well succeed, if not now then next year when free-agent Berahino hits the market. Puel's Southampton runs a fluid, possession-heavy, attack-heavy system into which the West Brom man should fit perfectly.
One can imagine him playing two-up-top opposite Nathan Redmond, being fed along by Dusan Tadic or Charlie Austin, prospering under the man who revived Hatem Ben Arfa's career and can count Eden Hazard, Alexandre Lacazette and Thierry Henry among his success stories.
At 23, Berahino's options are open, and whether now or in a year as a free transfer, he's sure to have suitors great and small come calling. Those who ring his agent will hope they can recapture the bright-eyed youngster who tore up League Two and banged in 20 goals before his 21st birthday. If the man himself wants these same things, he could do a lot worse than considering St. Mary's Stadium for his next home.